Meet the Staff
At Granite Family Dentistry, our greatest asset is our knowledgeable and friendly staff. Our dental assistants and hygienists are licensed professionals who pride themselves on staying on the cutting edge of dentistry, as well as forming relationships with all of their patients. They are excited about what they are doing, have high standards of quality and integrity, and are motivated to achieve the best results for our family of patients.
Our dedicated and motivated staff has one primary goal—to make our patients feel relaxed and comfortable during treatments! We feel it's important that you understand the procedure of the treatment that you'll be receiving so that you can relax during the process. Our staff is eager to answer any questions regarding your dental care. Please feel free to share with us your needs and concerns, so we can give you any information you seek.
We love what we do, and it shows on our faces—it seems we're always smiling around here. You'll find our staff is friendly and upbeat—and we'll do our best to make your visit comfortable, and even fun! And all the while we'll be providing you with the highest quality dental care. Don't be surprised if it's the best time you've had in a dental office.
Our team is skilled in many different areas of dental care, giving us the ability to perform several procedures to get you smiling more confidently. Contact us to schedule your appointment with our amazing team and get a smile you will love!
---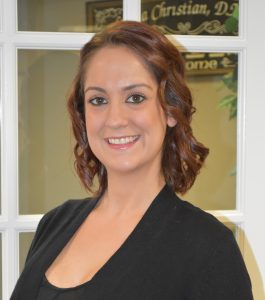 KAITLYN, OFFICE MANAGER
Kaitlyn joined our team in March 2019. Prior to being with us, she has a background of Graduating from NHTI in 2007 for Dental Assisting, 12 years as a Certified Dental Assistant and Certified Orthodontic Assistant, as well as five years experience with the Myobrace Program. Kaitlyn has lots of continuing education under her belt and is always looking to learn more to better her patients. Kaitlyn takes pride in overseeing that everyone in the practice has the best experience possible, as dentistry is her passion.
When Kaitlyn is not at work, she is enjoying life to her fullest with her family: Corey and their daughter Rylee. She enjoys powerlifting, snowmobiling, NASCAR, and being outdoors as much as possible.
---
GIULIA, PATIENT COORDINATOR
Giulia joined the Granite Family Dentistry team in 2017. She has worked in the dental field for around 20 years. It has always been her passion to be around patients, making them feel relaxed and ensuring that they have the best possible experience during their visits.
Giulia spends most of her free time with her family, friends, and her dog "Missy". Giulia recently became a grandmother, and she loves watching her granddaughter grow and experiencing life through her granddaughter's eyes. She is the love of her life!
---
ALYSSA, RDH
Alyssa Joined the team at Granite Family Dentistry in 2005. She graduated from NHTI in 2003 with her Dental Hygiene degree and continues to further her education through yearly continuing education courses.  In 2007, Alyssa received her license to administer Local Anesthesia from Mount Ida College. She loves to encourage and inspire her patients to develop good habits that benefit their oral health.
During her free time, she enjoys spending time with her family, summers in Ocean Park, Maine, running, and being outside as often as possible.
---
JANAISA, RDH
Janaisa received her Dental Hygiene degree from University of New England in 2003 and joined our team in 2006. She keeps up with the most recent technology in Dental Hygiene and received her license to administer Local Anesthesia from Mount Ida College in 2007. She also received her AS in Early Childhood Education from Manchester Community College in 1999; she enjoys treating children as well, and has been able to foster this education with children in the practice.
Janaisa understands not everyone enjoys going to the dentist and prides herself on making people feel comfortable at their dental cleanings. She strives to treat not just teeth but every need of the patient and takes into consideration a patient's whole body health as well. She resides in Hooksett with her children, Kenzi and Nolan. She enjoys spending time with her children and, as a family, they have a new found love for camping.
---
MAGDA, RDH
Magda joined the team at Granite Family Dentistry in 2016. She graduated from NHTI in 2000 with a Certificate in Dental Assisting, and went on to get her Dental Hygiene License in 2005. She also holds certification for the administration of local anesthesia. As a dental hygienist, she is passionate about educating patients on how to improve their oral health and overall health, while trying to create a comfortable atmosphere and positive experience for the patient.
During her free time, she enjoys spending time with her husband and children, attending her sons' hockey games and visiting family in Florida.
---
SHANNON, DENTAL ASSISTANT
Shannon was first introduced to Granite Family Dentistry in 2008 while she was doing her externship at New Hampshire Technical Institute. She worked as a Certified Assistant for two years before making her way back to Granite Family Dentistry. Shannon's goal in this office is to treat her patients with compassion and make sure they are comfortable and at ease throughout their dental appointment.
Shannon enjoys spending time with her family, watching her son Isaiah grow and learn, and spending time with her friends and her two dogs Lucy and Nora. She loves the outdoors, camping, and going on cruises.
---
KATIE, DENTAL ASSISTANT
Katie joined the Granite Family Dentistry team in July 2017.  She brings experience in both pediatric and general practices to our team. Katie loves working with children, and making people comfortable is her passion. Katie has 3 years of working with Invisalign and can relate to patients with her own experience.
Katie's hobbies include relaxing at the beach, hiking with her yellow lab, and just being outdoors as much as possible.